Year 4 Sharing some Christmas Joy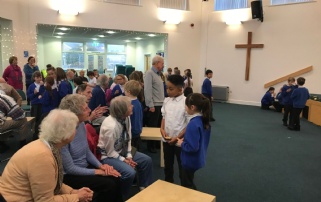 On Tuesday 10th December, Year 4 went to the Lantern Church to spread some Christmas joy and sparkle to the 'Mixed Blessings' Group.
A group of Merley's more senior members of the community enjoyed hearing the Christmas story and Christmas songs today at the lantern Church. Year 4 entertained the group , speaking and singing beautifully. Refreshments were then shared, with the opportunity for the children and adults to chat.
Everyone had a enjoyed the morning and plans are in place for year 4 to meet with the group again later this year and share some of their learning.
Thank you to everyone who worked so hard to make the event such as success!