Inspiring music at Merley!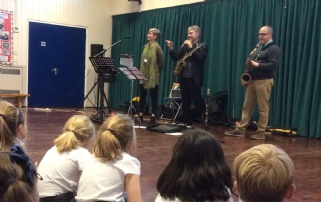 On Monday 18th November we had a musical afternoon as SoundCellar Trio performed to the school. We enjoyed singing and instruments being played and the children were introduced to Jazz. There were opportunities for the children to join in and sing along which was greatly enjoyed by all!
The children learnt about the Saxaphone, which has 32 buttons, is gold and very LOUD! The children told us they loved joining in and singing the doo doo doo doo bits to 'The pink panther'.