Green Flag Award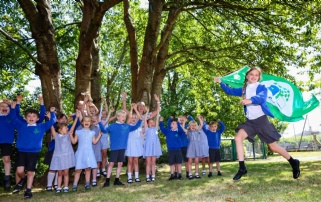 A Poole school is flying the flag for the environment after receiving international recognition for its green credentials. The Flag is recognised across the world and Merley is only just one of 1,200 schools in the UK to have been given this honour.
It recognises schools that get their pupils to lead on environmental projects that encourage whole community involvement. Headteacher of Merley First School, Jane Phillips, said: "We are incredibly proud to have been awarded the prestigious Eco School Green Flag.
"Our special team of pupil Eco Warriors have worked so hard on introducing a number of new environmental measures at school.
"I am particularly pleased for them that it was their work which so impressed the external assessor who awarded the Green Flag."
Merley's team of 10 Eco Warriors, with support from teacher Jennifer Benn, have trail-blazed a number of new green initiatives.
They have produced a five and 10 minute walking zone to encourage all children and parents to walk to school; introduced food waste recycling to be composted for the school's vegetable gardens and a new policy of always turning off lights and whiteboards when not in use.
CEO of Wimborne Academy Trust, Liz West, said: "This is an incredible and well-deserved honour for Merley First School.
"What is fantastic about this is it is the children themselves who are at the forefront of all these environmental initiatives.
"I am very pleased that they have been awarded this internationally recognised flag as permanent recognition of all their hard work."